Mobile Website Features
What is the mobile web all about?
It's about connecting with your customers. All studies show that
mobile browsing
is on the rise. Users are spending more time on their smartphones and tablets than their desktops or laptops. It's no longer just about serving your information on beautiful desktop websites. It's about delivering your message on the go: concise, easy to read, and accessible.
New ways to present your message


Simple icon-based navigation brings users to the exact information they need, when they need it.
Innovative ways to reach out


Users can point their phones to a QR code, connect with an app, or simply type in the URL. Instant, easy access!
Effective ways to connect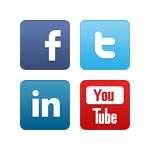 Encourage conversations and brand mentions with instant access to your Facebook page and automatically updated Twitter feed.
Establish a mobile hub


Integrate to multiple directory and listing placements, add map widgets, and set up
1-click calling.
Completely customizable


Choose custom colours, upload your logo, select the most relevant icons and features and make your site exactly the way you want it. Let your personality shine through! You can update or change your mobile site any time you please.
Mobile-ready features


Share your opening hours, location, directions, business information, coupons, access to reservations, and more. The one-touch "call us" and "find us" options bring visitors to you quickly. You can even showcase your products on a mobile store!
Socially connected


Integrate seamlessly with your Facebook and Twitter feeds. Add videos or publish high-quality image galleries on your mobile website. What's more, we will automatically convert and optimize your media content for any device! Bringing mobile site design to a whole other level!


Full features list
Find us

Show your customers where you are located, using the reliable Google maps plug-in.
Video

Automatically convert and optimize your videos for any device.
Products / Shopping Cart

Highlight your products and add a shopping cart so customers can purchase from the site.
Reviews

Let customers read business reviews that have been added to Yelp and Foursquare.

Forms

Create forms to suit your needs.
Twitter

Display your tweets on your mobile site; updates automatically.
Image gallery

Publish high-quality images on your Mobile website.
Call us

Make it easy for customers to call you with one click.
Coupons

Create special offers to entice your mobile customers!
Leave a message

Let customers leave a message requesting information.
Booking a request

Let your customers request a reservation.
Tell a friend

Get more traffic when visitors send a message with a link to your website.
Keep me informed

Maximize contact with customers. Get opt-ins for email and text messages.
Call back

Customers can leave messages requesting a call back.
Blog

Share your blog to the mobile world.
Opening hours

Tell customers when you are open for business.
Unlimited pages

Add pages anytime to highlight additional content.
Services

Share information on your services to help convert more leads.
Event calendar

Publicize your events using Google Calendar.
Legal

Don't forget to share the fine print.
Site translation

Allow your mobile site visitors to select the language of their choice. Over 30 Languages available
Facebook

Drive chat about your business by giving visitors access to your Facebook page.
WYSIWYG editing

Simple and stress-free content editing, using the friendly WYSIWYG Control Panel tool.
Customize the site

Upload your company logo and change your site's aesthetics and design to suit your brand.
Mobile/desktop site redirection

Direct users to the correct version of your site, depending on the device requesting access.
Device detection

Your site will be viewed flawlessly across thousands of mobile devices.
Full transcoding

Adapts website content seamlessly.
Analytics

Know where your traffic is coming from and where they're visiting.
Advanced

Designers and developers can deliver great customized mobile sites.
QR codes

Promote your site with automatically created marketing flyers and QR codes.
Check in

Support for Foursquare, Gowalla, Yelp, Google Places.
Create link

Create a link to any other web pages that will compliment your business.
Upload custom icons

Get seriously creative! Upload custom icons for each feature.
Smartphone bookmark icon

Upload a bookmark icon that customers can use on their smartphone home screen.
Site preview

Live site preview so you can see edits to the site as you make them.
Keywords

Add specific keywords to each feature to improve ranking in search engines.
Site sharing options

Drive traffic by posting your site URL to Facebook or Twitter, or by emailing it.
Multiple design templates

A variety of mobile templates to choose from to get you started with great designs.
Multiple icon sets

Select from a variety of icons sets to customize the look and feel of your site.


Google Analytics
Integrate Google analytics in one simple step.
Google Ads
Include ads with Google AdSense and add revenue to your business.

Site SEO
Add keywords to search engines can understand your business and you can grow traffic.
Why not get on-board and create your own mobile website with MobWebPro
Click Here
for a free trial